Integrative Health and Mind-Body Biomarker Laboratory 

Since 1993, the UC San Diego Integrative Health and Mind-Body Biomarker Laboratory (formerly named the Clinical Research Biomarker Laboratory) has provided biomarker assay consultation, assay performance, and data processing and interpretation services to academic and industry investigators. The services that the IH-MBB Lab currently provides are for various biospecimen types from research involving human participants and will soon expand to animal studies. In particular, the IH-MBB Lab's role is to facilitate biomarker investigations for research in integrative medicine, behavioral medicine, and brain-body connections, as well as more traditional biomedical research. Collaborative efforts to foster biomedical and clinical research is the core mission of this laboratory. The IH-MBB Lab is located on UC San Diego La Jolla and Hillcrest campuses.


Contact:
Chris Pruitt
cpruitt@health.ucsd.edu
Addresses:
University of California San Diego
9515 Gilman Dr.
Medical Teaching Facility, Room 431
La Jolla, CA 92093​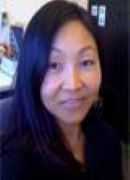 Suzi Hong, PhD
Director
Professor
Herbert Wertheim School of Public Health and Human Longevity Science
and Department of Psychiatry
suzihong@health.ucsd.edu ​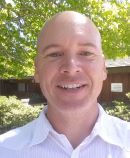 Christopher Pruitt, BS
IH-MBB Core Laboratory Manager
cpruitt@health.ucsd.edu


​The IH-MBB Lab provides assay consultation, performance, data processing, and interpretation services for diverse biospecimens from human and animal research studies. Currently, we perform immuno-assays that are validated in human blood, urine and saliva specimens and welcome inquiries for other specimen types. We also provide assay services for cellular immune investigations using flow cytometry.
Activities:
Assay performance:

 

Performing validated assays with internal and commercial QC for basic and clinical investigators.
Consultation:

 

Assisting investigators with protocol development and assay selection and with sample collection procedures and storage.
Assay validation:

 

Validating new assays in accordance with Good Laboratory Practice. 

Education:

 

Educating and training students and junior investigators in the utilization of laboratory techniques and organizing seminars for laboratory techniques. 

Assay data interpretation:

 

Assisting investigators in assay data processing, interpretation, and reporting.
The Lab features a constantly growing number of validated assays. If an assay is not available within our portfolio, we can discuss the possibility of in-house assay development with the investigator or assist in identifying a lab that performs the assay.
Routine immuno-assays run in the lab includes: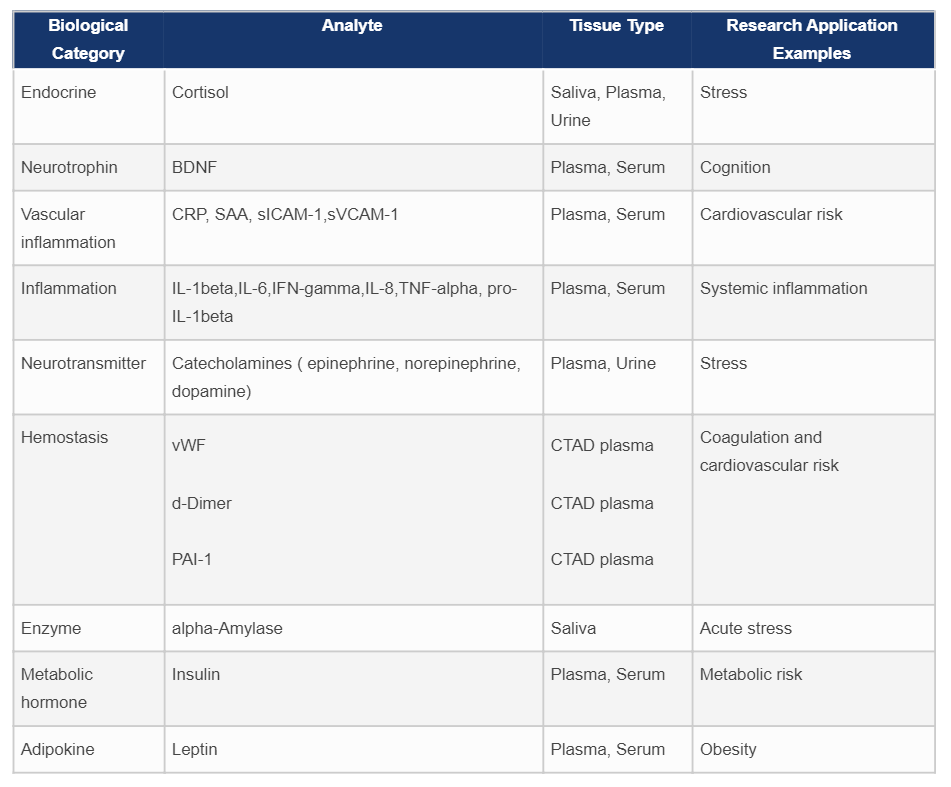 Immuno-assays for many other analytes are also available including but not limited to:
Cytokines and Chemokines: IL-10, 12, 13, 15, 16, 17, etc.; TGF; Fractalkine; IP-10; MCP-1, 2, 4; MIF-1alpha, beta, etc.; MMPs; VEGFs)
Metabolic hormones: adiponectin, GLP-1, Glucagon, Resistin, PYY
Flow Cytometry services:
Cell isolation and antibody staining
Standard Immunophenotyping in blood and CSF
Cell surface detection of detailed cell subpopulations and activation, adhesion, and chemokine receptor markers
Intracellular detection of cytokines
Immune cell activation assays
Main equipment:
Meso Scale Diagnostics Sector Imager 2400 Multiplex Instrument
Molecular Devices VersaMax ELISA Microplate Reader
BD Biosciences FACSCalibur Flow Cytometer with FACS Loader and Flow System
​
​​Plasma and Serum
EDTA or sodium citrate treated plasma or serum samples are used. Do not use haemolytic or lipemic samples. Storage: up to 6 hours at 2 - 8°C; for longer periods (up to 6 months) at - 80°C. Repeated freezing and thawing should be avoided for many analytes. Thus, storing samples in appropriate number of aliquots is important upon blood sample collection and plasma storage.


Urine
Spot urine or 24-hour ​urine samples can be used. Storage: for longer periods (up to 6 months) at -80°C. Repeated freezing and thawing should be avoided. Avoid exposure to direct sunlight.


Saliva
Collect Sailva using a collection device such as a Salivette or equivalent. Assay immediately or aliquot and store at -20 degrees Celsius or greater. Avoid repeated freeze-thaw cycles.


Cellular Prep
EDTA or heparin treated whole blood cells or isolated/enriched cellular preps (e.g., peripheral blood mononuclear cells) are used for cellular analyses using flow cytometry. Freshly collected blood or isolated cells are the most ideal, but cryopreserved cells can be analyzed using flow cytometry based on the cellular markers of interest.