DIVISION OF BIOSTATISTICS & BIOINFORMATICS
IN THE HERBERT WERTHEIM SCHOOL OF PUBLIC HEALTH AND HUMAN LONGEVITY SCIENCE




WHAT WE DO
We have expertise in design and analysis of clinical trials, behavioral interventions, cohort studies, and biomarker studies, including such areas as longitudinal models, "big data" and high dimensional analyses, image analysis, and survey statistics
 Our goal is to pursue excellence in the following areas: 




Methodological research in biostatistics and bioinformatics, in particular methods responsive to new quantitative and scientific problems arising from advances in medicine, biology and health care systems


Collaborative clinical, biological, and translational research


Education in contemporary statistical theory and applications


Service to the university and local community
EDUCATION & TRAINING IN BIOSTATISTICS
Biostatistics and Bioinformatics offers two graduate degrees: a Master of Science and a PhD. Undergraduate students also have the opportunity to specialize in Biostatistics as a Public Health major.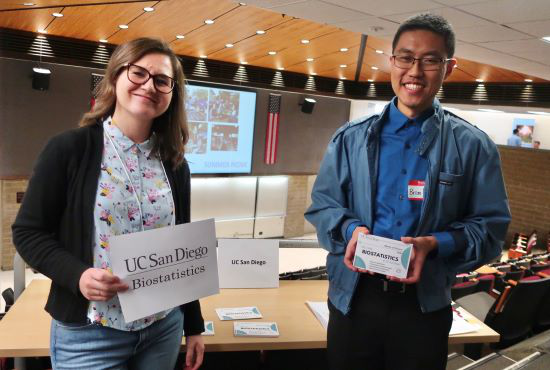 News and Announcements
Fall 2021 Admissions
The admission application for Fall 2021 will be accepted from October 7, 2020 to January 6, 2021 for both the MS and the PhD.
Graduate Program Leadership
We are excited to have Dr. Florin Vaida taking on the role of Graduate Programs Director and Dr. Lin Liu as MS Program Director effective October 1, 2020.
Postdoctoral Biostatistics Fellowship Open
The fellowship is a 12-month appointment with supervising professor, Steve Edland, PhD.
RESEARCH
Our research interests include clinical trials methods, survival analysis, prognostic modeling, longitudinal data analysis, imaging, statistical genetics, semi-parametric and non-parametric statistics, computational statistics, Bayesian statistics, machine learning, and computational biology.
EXPLORE
Faculty and students in Biostatistics & Bioinformatics encourage involvement with the American Statistical Association. Visit the This is Statistics webpage for more information on this exciting field!